Saturday, April 23, 2016


Let's focus a little on TNA for a minute...before they go belly up.
Posted by

Extreme Vampyr
at 7:53 PM
No comments:

Thursday, April 21, 2016
RIP Chyna
"9th Wonder Of The World"
1970 - 2016
Chyna, The 9th Wonder of the World has passed away last night. She was 45 years old and too young to leave all of her wrestling fans from around the world. I was a huge fan of hers growing up as she was a stunning, striking sight to see on my TV screen. I've always had a fascination with womens wrestling but that may never be if it wasn't for Chyna.
Chyna with Freddy Krueger
As I found out about this I was confused about how to feel. Her actions and history lately was nothing to be proud of and it diminished what respect I had for her. A hero had fallen from grace. But I never wished this upon her or anyone. I always thought she would get better and live a great life into her golden years.
Sadly her demons caught up with her and now she is gone. She was a true pioneer in womens wrestling. She also was a very big part of the boom period of pro wrestling in the late 90s. Theres no doubt she will be remembered as an icon from this point on.
Chyna was a beauty
I know I posted a blog tearing into her for no showing WrestleCon in Dallas. But it was only meant to be an observation and for me to vent about her behavior and disrespect to her fans. I just now changed the title to the post out of pure respect for her and her family. I don't really feel that way towards her. At least not anymore.
SHe is gone now and I hope that she is now at peace. We will remember her as the asskicker she was and the amazing iconic person she showed she could be. AN inspiration to all and an inspiration to many little girls out there. I will one day show both my daughters who Chyna was and hope one day they will be inspired by her too.
Rest In Peace, Chyna, Joannie Laurer. You are now with your fellow angels.
-[extreme-vampyr]-
(CNN) -
Joan Laurer, the groundbreaking female wrestler known as Chyna, has died.
Police in Redondo Beach, California, confirm that Laurer, 45, was found dead in her apartment on Wednesday. Police say they were notified by a friend who went to check on her and found Laurer unresponsive. The cause of death is under investigation, but police say there are no signs of foul play.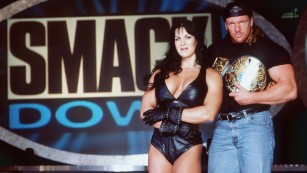 "It is with deep sadness to inform you that we lost a true icon, a real life superhero. Joanie Laurer aka Chyna, the 9th wonder of the world, has passed away," said
a post on her website
.
After graduating from the University of Tampa, Chyna started training in the world of professional wrestling and in 1996 was named the "Rookie of the Year for the Women's Championship," according to her website. She wrestled in the Royal Rumble and King of Ring tournaments and became the only undefeated Women's Champion in WWF (World Wrestling Federation) history.
"Thoughts and prayers go out to Chyna's family. She was always cool with me. #Rip9thWonder," wrote wrestler James Storm on Twitter.
Stephanie McMahon of WWE (World Wrestling Entertainment) posted: "She was truly a pioneer in our industry, and she will be missed. #RIPChyna."
Chyna also appeared in TV, magazines, music videos and adult films. Her 2001 autobiography, "If They Only Knew," describes her as "part feminist, part superhero" and says "Chyna blazed a trail where no woman had gone before."
Posted by

Extreme Vampyr
at 9:33 AM
No comments:

Labels: 1970, 2016, 90s, attitude, away, Chyna, era, Joannie, Laurer, passes, rip, womens, womens-wrestling, wrestling, wwe, wwf